Where is my thyroid gland?
The thyroid gland is located at the front of the neck just below the Adam's apple (larynx). It is butterfly-shaped and consists of two lobes located either side of the windpipe (trachea). A normal thyroid gland is not usually outwardly visible or able to be felt if finger pressure is applied to the neck.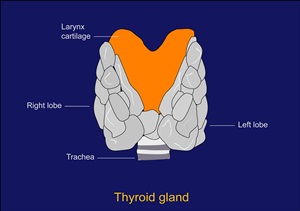 What does my thyroid gland do?
The thyroid gland produces hormones that regulate the body's metabolic rate as well as heart and digestive function, muscle control, brain development, mood and bone maintenance. Its correct functioning depends on having a good supply of iodine from the diet.  
The release of thyroid hormones from the thyroid gland is controlled by thyrotrophin-releasing hormone from the hypothalamus in the brain and by thyroid stimulating hormone produced by the pituitary gland. This forms part of a feedback loop called the hypothalamic–pituitary–thyroid axis. 
Thyroid stimulating hormone and free thyroid hormones are used to monitor thyroid function in a patient. Typically, modest changes in free thyroid hormones result in large changes in thyroid stimulating hormone.
What hormones does my thyroid gland produce?
The thyroid gland produces thyroxine, which is a relatively inactive prohormone and lower amounts of the active hormone, triiodothyronine. Collectively, thyroxine and triiodothyronine are referred to as the thyroid hormones. Twenty percent of the body's triiodothyronine is made by the thyroid gland; the other 80% comes from thyroxine converted by organs such as the liver or kidneys.
The thyroid gland also produces calcitonin from cells called C-cells. Calcitonin is understood to play a role in regulating calcium levels in the body, but its exact function in humans remains unclear. 
What could go wrong with my thyroid gland?
The thyroid gland can become overactive (hyperthyroidism) or underactive (hypothyroidism). This may, rarely, occur from birth, or develop later on in life. Hypothyroidism is often accompanied by an enlargement of the thyroid gland known as goitre.
Thyrotoxicosis is the term given when there is too much thyroid hormone in the bloodstream. It may be a result of overactivity of the thyroid gland (hyperthyroidism) as in Graves' disease, inflammation of the thyroid or a benign thyroid tumour. Symptoms of thyrotoxicosis include intolerance to heat, weight loss, increased appetite, increased bowel movements, irregular menstrual cycle, rapid and irregular heartbeat, palpitations, tiredness, irritability, tremor, hair loss and retraction of the eyelids resulting in a 'staring' appearance. 
Hypothyroidism is the term given when low levels of thyroid hormones are produced by the thyroid gland. It may result from autoimmune diseases (when the person's immune system starts to attack the body's own organs), poor iodine intake or be brought on by use of certain drugs. Since thyroid hormones are essential for physical and mental development, hypothyroidism during development (that is, before birth and during childhood) can result in learning difficulties and reduced physical growth. Hypothyroidism in adults results in decreased metabolic rate. This causes symptoms that include fatigue, intolerance of cold temperatures, low heart rate, weight gain, reduced appetite, poor memory, depression, stiffness of muscles and infertility.
---
Last reviewed: Mar 2018
---